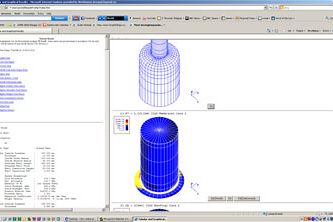 Calculation and design
Deprest makes pressure vessels in compliance with the PED 97/23/EG guidelines. Depreset is certified to weld pressure vessels according to:
Deprest also designs atmospheric tanks according to AP1650 and Vlarem
For this, we have the following tools at our disposal:
Design department with CAD drawing software in 2D or 3D (Solid Works)
Acces to guidelines
2 welding engineers
Calculation software for pressure vessels and appliances (Autopipe/Microprotocol)
Software to calculate nozzle loads (Nozzle Pro)
Possibility of other calculations such as finite element analysis in cooperation with external partners
A large database of PQR's so that we can easily make new WPS in case of new orders
Inspection and measuring devices
Quality products and good service are of the utmost importance to us. Every project, large or small, is prepared and executed meticulously. Our integrated quality system enables us to keep a constant eye on our internal processes, without losing sight of norms and regulations. You will find more information under the tab, Quality.
Strict checks both internally and through external inspection organizations ensure the quality of your project
Deprest works closely with various certifying test bodies
All welders are certified
Roughness meter (Ra meter)
Negatoscope for interpreting laser welding
Opportunity to test boilers internally up to 130 bar