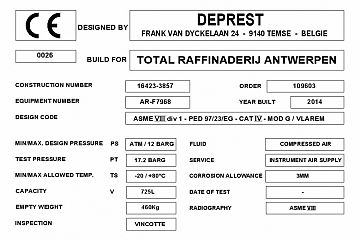 Deprest is certified compliant with the ISO 9001:2015 standard, and is also certified compliant with the ISO 3834-2/BS welding standard.
All pressure vessels are made in accordance with the applicable regulations. For vessels destined to the European market, this meets the Pressure Equipment Directive (PED), and they receive a CE marking.
Offering a high-quality product and good service are extremely important to us.
Every project, large or small, is prepared and executed with the utmost care. We rely on our integrated quality system to monitor our quality continuously. In addition, we are constantly trying to improve internal processes, without losing sight of the generally applicable standards and regulations.
Deprest is certified to weld pressure vessels in compliance with the EN13445, AD2000 and ASME codes and, on top of the ISO 9001, also has ISO 3834-2/BS certification.