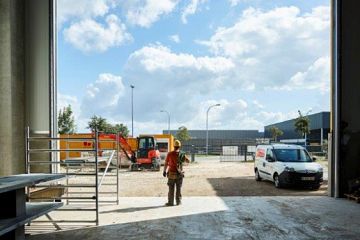 We would like to take this opportunity to update you on the progress of the work on the extension of our  workshop in 2016/2017
History
End of January 2017: the extension is officially put into use and the occasion celebrated with an "open workshop" day for our customers. Only the exterior finish (curing, landscaping) needs further treatment.
October 2016 - January 2017: further progress in the completion of the building, internal relocation, additional machines are commissioned, i.a. heavy-duty profile bender and an additional plate rolling machine.
October 2016: New pickling hall starts operations.
September 2016: Plasma Keyhole welding installation in place.
August 2016: Building is weathertight and the concrete floor is poured; part of the building is already in use.
June 2016: Concrete floor, domes, gates and doors. By the end of June the building is weathertight.
May 2016: Work on roof and side plating starts.
April 2016: Some of the newly acquired overhead cranes due to move from the existing section to the new extension are relocated. Positioning of concrete piles.
March 2016: Start of foundation works.
January 2016: New build design is approved.
December 2015: The decision is made to expand the workshop by 1680 m2. A first design is created: the pickling hall must go, because it will be moved to the back of the building.
The 2016/2017 extension has the following characteristics:
1680 m2 additional workshop floor area
Height: 18.3 metres – 15 metres under the hook, building suitable for vertical assembly
Since the biggest gate's opening is 9x9 metres, this is the theoretical limit of the largest vessel Deprest will ever be able to build.
In addition to the existing test area in the current workshop, there will be another reinforced area with a base of 10x10 metres used to test tanks standing vertically.
Fully equipped with overhead cranes. The new building will feature 26 tackles and the heaviest overhead crane will be able to lift 64 tons